papermore
2010.01.29 Friday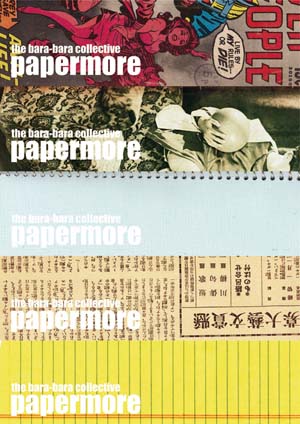 English follows
 初春の候、皆さまにおかれましてはますますご清栄のこととお喜び申し上げます。
 私たち「the bara-bara collective」は、紙メディアに挑戦する企画を2月と5月に行います。以下お知らせになりますので是非ご覧下さい。
*お知らせ*
「the bara-bara collective」による公開制作と展覧会
『papermore』のお知らせ。
「神田」という本と印刷物と紙の街で、自由な発想で紙メディアをつくります。近年電子メディアの隆盛や環境的な視点によって紙をとりまく現状は変わりつつあります。紙にとっての変化の時代に、それぞれの視点で挑戦する紙メディアにご注目下さい。
「the bara-bara collective」とは生まれや経歴がバラバラな5人がメディアで遊ぶ共同体。今回は紙メディアに挑戦します。
メンバー
折戸 朗子 宮路 雅行 村山 修二郎 村山 悟郎 ハーズ・ダン
企画/運営/the bara-bara collective
主催/東京芸術大学大学院中村政人研究室
揚力/アーティストイニシアティブ コマンドN、株式会社 精興社
協賛/紙工房 堂地堂、株式会社竹尾
*企画*
【papermore open studio】
会期:2010/02/05 (金)〜20 (土)
制作時間:12:00〜19:00
休み:月曜日
会場:プロジェクトスペースKANDADA
(千代田区神田錦町3-9 精興社1F)
アクセス:東京メトロ東西線竹橋駅1b出口より徒歩3分
都営三田線・新宿線・東京メトロ半蔵門線神保町駅A9出口より徒歩3分
入場無料
– オープニングパーティー 
日時:2/5 18:00〜20:00
特別出店
・車で移動しながらセレクトされた古書を展示販売する「smokebooks」
 http://www.smokebooks.net/
・こだわりのオリジナルノートやメモ帳等を制作販売している「紙工房 堂地堂」
 http://douchidou.cocolog-nifty.com/blog/
– ゲストトーク –
日時:2/20 18:00〜20:00
ゲスト:竹熊健太郎
http://takekuma.cocolog-nifty.com/
編集・執筆・漫画原作・評論・大学教授など、幅広く活動している竹熊健太郎氏による「紙とデジタルが共存する出版の未来」についてのゲストトーク
【papermore】
会期:2010/05
営業時間:11:00〜17:30
休み:日曜日(祝日は営業)
会場:本と街の案内所
(千代田区神田神保町1-7-7)
アクセス:地下鉄「神保町駅」のある「神保町交差点」から、靖国通りを神田小川町方面へ徒歩1分。赤い看板が目印です。
入場無料
*コンタクト*
東京芸術大学大学院壁画第一研究室(担当:宮路 雅行)
住所:〒302-0001茨城県取手市小文間5000番地
電話:050-5525-2567
メール:barabaracollective@gmail.com
ツイッター:http://twitter.com/B_collective_
*information*
This February 'the bara-bara collective' will be running an open studio programme at Project Space Kandada in Tokyo during which they were will experiment with paper in relation to their individual practices and exhibit the works in progress. In May we will hold a second show, this time displaying results of our work. We would be very pleased if you could take the time to visit our exhibitions.
In recent years, digital media has seemingly become the dominant mode for communication and dispersing information. It appears as if almost everything is becoming paperless. Yet there still remains an interest and a demand for paper-based media as the recent resurgence of 'zines and hand-made books show, people still care for the tactility, tangibility and uniqueness that screens can't provide.
'the bara-bara collective' is taking over the Project Space Kandada for two weeks during February as part of an open studio programme called 'papermore'. The artists will carry out a variety of projects exploring paper as a medium with the works in progress to be shown at a closing party alongside a guest talk on February 20th. There will also be special booths showcasing work by companies that deal primarily with paper and books available to buy on the night.
Members- Akiko Orito - Masayuki Miyaji - Shujiro Murayama -
Goro Murayama - Dan Hards
the bara-bara collective - papermore
Host: Tokyo University of the Arts, MA Nakamura Research Lab.
In co-operation with Artist Initiative Command N, and Seikosha
With generous support from: Dochido Paper Factory and Takeo Paper
*project*
【papermore open studio】
Date:2010/02/05 (Fri)〜20 (Sat) Opening times: 12:00〜19:00 Closed Mondays Location:Project Space KANDADA Seikosha 1F, 3-9,Kanda , Nishikicho, Chiyoda ku, Tokyo
Free entry
Opening Party
February 5th 18:00 - 20:00
Time: February 5th 18:00〜20:00 Free entry
Sales booths-
'Smoke Books' is a mobile used book company that travels around Tokyo in a van selling a selection of second-hand books.
'Douchidou' makes a range of specially designed hand-made notepads, books and sketchpads.
http://www.smokebooks.net/
http://douchidou.cocolog-nifty.com/blog/
Guest talk
'Printed and digital media coexisting in the future' a guest talk by Takekuma Kentaro
(Editor・Writer・Manga author・Critic・University professor)
Date: February 20th Time: 18:00〜20:00
http://takekuma.cocolog-nifty.com/
【papermore】
Date:May (TBC) Open: 11:00〜17:30 Monday - Saturday Closed: Sundays (except public holidays)
Location:Community and Book Information Center
(Jimbocho 1-7-7 Kanda, Chiyoda-ku) Access: Tokyo Metro Jimbocho Station From Jimbocho crossing, walk for approximately one minute along Yasukuni street towards Kanda Ogawacho.
Free entry
*contact*
Tokyo University of the Arts, MA Nakamura Research Lab.
Address: Tokyo University of the Arts, Mural Painting Masters Research Lab. (First Year)
Address: 5000 Omonma, Toride-shi, Ibaraki 302-0001
Telephone: 050-5525-2567
e-mail:barabaracollective@gmail.com
twitter:http://twitter.com/B_collective_